Spoiler Warning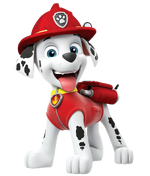 This article is related to an episode that has not premiered in the United States yet, or has very recently premiered. This page may contain spoilers from this specific episode. If you don't want to see spoilers, please go to a different page. This notice can be removed a week after an episode's premiere in the United States.
---
If you see this template on a page, do not post comments detailing spoilers for an episode. Major plot details of an episode are not to be mentioned in comments until a week after it premieres.
"Cat Pack/PAW Patrol Rescue: Marshall, Leo and a Ferris Wheel" is the third segment of the 25th episode in Season 8 and a 5-minute animated short of PAW Patrol.
Summary
Marshall and Leo must rescue some critters stuck on a Ferris wheel.
Characters
Marshall
Leo (debut)
Additional characters to be announced.
Synopsis
It began at the Lookout. Marshall and Leo were playing games, as Marshall suggested they play with a pull toy. But, during their playing, a mice jumps Leo, and Marshall thinks they should dig holes instead. At the bay, some animals go into Ferris Wheel seats and a squirrel chips off part of the switch. When Mr. Porter notices, he tries to turn it off, but the switch comes off of the controls, and then he calls Ryder.
Ryder gets the call, and, as Marshall and Leo says their catchphrases, Ryder declares it is time for a Cat Pack/PAW Patrol Rescue. As they go up the elevator, Leo transforms into his Cat Pack gear, and they go off to save the animals.
As they go to the Ferris Wheel, Ryder assigns Marshall to tell the animals to hold on tight, while Leo will use his vehicle's jaws and his Lion Strength to stop the Ferris wheel. Marshall then uses his ladder to get the animals down. However, once they are down, Marshall and Alex realizes their is a mouse in another seat. Leo decides to overcome his fear and save the mouse. Alex thanks Ryder, Marshall, and Leo for saving the animals. The episode ends with everyone laughing.
Pups in Action
First Responders

Marshall
Use his ladder to get the animals safely down.

Leo
Use his Lion strength to stop the ferris wheel.
DVD Inclusions
This episode appears in the following DVD(s):