Spoiler Warning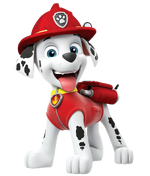 This article is related to an episode that has not premiered in the United States yet, or has very recently premiered. This page may contain spoilers from this specific episode. If you don't want to see spoilers, please go to a different page. This notice can be removed a week after an episode's premiere in the United States.
---
If you see this template on a page, do not post comments detailing spoilers for an episode. Major plot details of an episode are not to be mentioned in comments until a week after it premieres.
"Cat Pack/PAW Patrol Rescue: Rubble and Wild and a Yarn Ball!" is the first segment of the 25th episode in Season 8 and a 5-minute animated short of PAW Patrol.
Summary
Rubble and Wild team up to stop a giant runaway yarn ball rolling through town.
Characters
Synopsis
It started at the lookout. Rubble and Wild were playing games, with Wild getting dizzy after Rubble chased his tail. He then started playing with a yarn ball. Meanwhile, Farmer Al and Yumi were preparing to get their yarn ball ready for the Sweater Knitting Contest. However, on the way there, a rock on the road caused the yarn ball to bounce out of Farmer Al's truck and caught some animals in the process, as Farmer Al decided to call the PAW Patrol.
Ryder tells Rubble and Wild what Farmer Al told him, as he tells them it is time for a Cat Pack/PAW Patrol Rescue. As the two of them go up the elevator, Wild transforms into his Cat Pack gear. With that, the team deploys and heads out, with Wild first down the slide and on his vehicle as they deploy.
As they get near the yarn ball, Ryder assigns Rubble to dig a trench to stop the yarn ball, while Wild will use his Cheetah Speed to save the animals trapped on the yarn ball. Wild then uses his Cheetah Speed to save the animals, and Rubble makes his trench, and just in time, as the yarn ball is about to enter it. Rubble then used his rig to stop the yarn ball. Farmer Al then thanks Ryder for saving the yarn ball, and then he says "Whenever a giant yarn ball rolls away, just yelp for help!". The short then ends with Wild playing with a yarn ball as everyone laughs.
Pups in Action
First Responders
Rubble
Use his rig to make a path for the yarn ball.

Wild
Use his Cheetah Speed to get the animals off of the yarn ball.
DVD Inclusions
This episode appears in the following DVD(s):