Under Construction

This article or section is "under construction". There needs to be more work and information added to this section/page before it can be considered satisfactory.
Spoiler Warning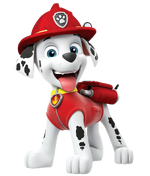 This article is related to an episode that has not premiered in the United States yet, or has very recently premiered. This page may contain spoilers from this specific episode. If you don't want to see spoilers, please go to a different page. This notice can be removed a week after an episode's premiere in the United States.
---
If you see this template on a page, do not post comments detailing spoilers for an episode. Major plot details of an episode are not to be mentioned in comments until a week after it premieres.
PAW Patrol: The Movie (working title) is an upcoming theatrical movie based on the PAW Patrol franchise. It was mentioned in Spin Master's First Quarter 2019 Earnings Conference Call. Although not officially announced, the scripts and production of the film are both underway.
On November 8, 2019, Mikros Animation announced it will be undertaking production of the film.
On February 21, 2020, The Wrap confirmed that it will be released in August 2021.
On April 25, 2020, NickALive reported that it is scheduled to be released on August 20, 2021.
On March 13, 2021, the first sneak peek of the movie was shown during Nickelodeon's 2021 Kids' Choice Awards ceremony.
Summary
Ryder and the pups are called to Adventure City to stop Mayor Humdinger from turning the bustling metropolis into a state of chaos. Get ready for exciting missions, high-stake rescues, new pups and amazing new vehicles making this the biggest PAW Patrol story ever! No city is too big; no pup is too small!
Characters
Ryder
Mayor Humdinger
Additional characters to be announced.
Synopsis
To be announced.
Pups in Action
To be announced.
First Responders
To be announced.
References
Theatrical Movies
PAW Patrol: The Movie
Community content is available under
CC-BY-SA
unless otherwise noted.