Spoiler Warning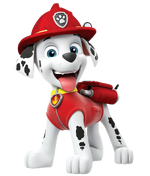 This article is related to an episode that has not premiered in the United States yet, or has very recently premiered. This page may contain spoilers from this specific episode. If you don't want to see spoilers, please go to a different page. This notice can be removed a week after an episode's premiere in the United States.
---
If you see this template on a page, do not post comments detailing spoilers for an episode. Major plot details of an episode are not to be mentioned in comments until a week after it premieres.
"Pups Meet the Cat Pack" is an upcoming episode in Season 9 of PAW Patrol.
Summary
When Mayor Humdinger transforms his robot cat into a tiger-sized metal-eating menace, the PAW Patrol calls in the Cat Pack for help in stopping the creature.
Characters
Cat Pack
Mayor Humdinger
Meow-Meow
Synopsis
To be announced.
Pups in Action
First Responders (1st Emergency)

Chase
Use his net to catch Meow-Meow.

Wild
Lure Meow-Meow with his motorcycle into position for Chase's net.

Marshall+

Zuma+
Rubble+

Rocky+

Skye
The rest of the pups follow to back them up.
First Responders (2nd Emergency)

Rory
Use her tiger pounce to jump to the top of City Hall and ring the bell.

Wild
Use his cheetah speed to save Mayor Goodway and Chickaletta from the falling bell.
Go to Foggy Bottom to find out how did Mayor Humdinger make Meow-Meow big in the first place.
Lead Meow-Meow to the Dessert.
Watch Meow-Meow rest till he wakes up.
First Responders (3rd Emergency)

Marshall
Use his water cannons to spray Meow-Meow.

Rory
Distract Meow-Meow by showing him the cables on the bridge.

Leo
Use his lion-strength to push the bridge back to normal.

Rocky
Fix the bridge from falling.

Chase
Instruct Meow-Meow to move the the center of the bridge.

Zuma
Stop Meow-Meow from going into the water.

Skye
Rescue Shade and airlift her so she can zap Meow-Meow to go back to normal size.

Wild
Make Meow-Meow dizzy by doing donuts around him.

Shade
Zap Meow-Meow back to normal.
References