Spoiler Warning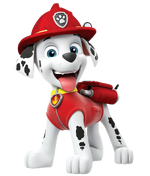 This article is related to an episode that has not premiered in the United States yet, or has very recently premiered. This page may contain spoilers from this specific episode. If you don't want to see spoilers, please go to a different page. This notice can be removed a week after an episode's premiere in the United States.
---
If you see this template on a page, do not post comments detailing spoilers for an episode. Major plot details of an episode are not to be mentioned in comments until a week after it premieres.
"Pups Save Ryder's Surprise" is an upcoming episode in Season 7 of PAW Patrol.
Summary
Ryder's present ends up in the jungle and Carlos is trapped in a Jungle Gym. It's up to the pups to save the present and Carlos.
Characters
Ryder
Carlos
Additional characters to be announced.
Synopsis
To be announced.
Pups in Action
First Responders

Rocky
Use his tools to take apart the jungle gym.

Chase
Use his four by four to catch up to the monkeys and his megaphone to get them to put down the tools.
Backup Responders

Rubble
Stop the statue before it falls on Mandy. Later, push the statue back in place.

Tracker
Get Mandy out of the spot where the statue is above her.
References
Community content is available under
CC-BY-SA
unless otherwise noted.