Spoiler Warning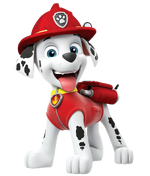 This article is related to an episode that has not premiered in the United States yet, or has very recently premiered. This page may contain spoilers from this specific episode. If you don't want to see spoilers, please go to a different page. This notice can be removed a week after an episode's premiere in the United States.
---
If you see this template on a page, do not post comments detailing spoilers for an episode. Major plot details of an episode are not to be mentioned in comments until a week after it premieres.
"Pups Save Uncle Otis from His Cabin" is the second segment of the 13th episode in Season 7 of PAW Patrol.
Summary
Uncle Otis's installs a Smart Home 3000, in his cabin, that ends up trapping Uncle Otis and Mr. Wingnut inside!
Characters
Synopsis
To be announced.
Pups in Action
First Responders

Marshall
Use his ladder to reach the window over the door. Later, tell the beavers to gnaw an escape hole in the cabin.

Rocky
Climb up, go through the window, and use his tools to free Uncle Otis and Mr. Wingnut. Later, use his saw to widen one of the holes, then get on the ladder and use his claw to snag the other hole.

Everest
Use her grappling hook to slow the cabin down.
Community content is available under
CC-BY-SA
unless otherwise noted.