Spoiler Warning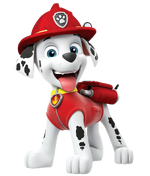 This article is related to an episode that has not premiered in the United States yet, or has very recently premiered. This page may contain spoilers from this specific episode. If you don't want to see spoilers, please go to a different page. This notice can be removed a week after an episode's premiere in the United States.
---
If you see this template on a page, do not post comments detailing spoilers for an episode. Major plot details of an episode are not to be mentioned in comments until a week after it premieres.
"Pups Save a Bah Humdinger" is the 17th episode in Season 7 of PAW Patrol.
Summary
Mayor Humdinger is being very naughty on Christmas Eve, and it's up to the PAW Patrol to help Santa and save Christmas.
Characters
Synopsis
Christmas time is here, and at the North Pole, Santa Claus is getting ready to make his annual journey as his elves hustle to make the final preparations. Around this time, Percy the Map Elf arrives to reveal he needs to make some final updates on his map to show who is naughty and nice so Santa knows who to deliver presents to when he makes his journey. The last stop for Percy is Foggy Bottom and Adventure Bay, so he takes off in his rocket sled to finish his job so Santa can make his trip.
In Adventure Bay, the PAW Patrol is busy decorating the Christmas tree in the town square outside City Hall when Mayor Goodway arrives with Chickaletta and leads Cap'n Turbot, Farmer Al, and Farmer Yumi in a Christmas carol as they are joined by Julius, Julia, Daring Danny X, Mr. Porter and his grandson. As they finish, Mayor Humdinger arrives with the Kitten Catastrophe Crew, and Goodway is surprised to see him in a good mood. Nevertheless, it is clear he is still being his naughty, sneaky self, especially with not taking the kittens thoughts into account, as he mentions the gift he wants from Santa. Shortly thereafter, he departs.
Meanwhile, Percy is making his way over Adventure Bay, but as he checks the map, it momentarily covers his face, causing him to lose control of his rocket sled and crash into the snow outside the lemonade stand. It just so happens that Mayor Humdinger is passing by when he spots Percy, and when Cat Rocky finds the map, Mayor Humdinger, seeing the mark labeling Foggy Bottom as naughty, decides to pull something sneaky to get back at how he may not get his gift he's hoping to get for Christmas. Shouting that he found one of Santa's elves, he is able to be heard by Tracker, who leads the pups and the kids to meet Percy in person. In the confusion, Humdinger grabs the map and makes his escape. Arriving at the Lookout, he decides to commandeer the Air Patroller to head to the North Pole to show the map to Santa, while removing the naughty sticker and placing all the nice ones over Foggy Bottom before tearing the Adventure Bay part off and letting it blow away to ensure he gets all of Adventure Bay's gifts as well. However, once aboard the Air Patroller, Robo-Dog refuses to do as Humdinger asks, leaving Cat Skye to take control of the aircraft. Unknown to Humdinger, Robo-Dog slips away to notify Ryder of the situation.
Back with Percy, when it is clear his rocket sled is out of action and there's no way to get back to the North Pole to warn Santa, Ryder summons the pups to the Lookout. Once briefed on the situation, Ryder assigns Chase to aid in finding the map with his UAV drone, while Rocky works on Percy's rocket sled. They take off to assist, but once with Percy, while Chase finds the Adventure Bay half of the map Humdinger threw away in the Christmas tree and has his drone retrieve it, Rocky is having a lot of trouble repairing the rocket sled since he is not used to working on North Pole tech. When the Air Patroller flies haphazardly overhead, Robo-Dog uses the opportunity to escape and show Ryder what happened. With their fastest means to get to the North Pole in the hands of Humdinger and the Catastrophe Crew, Ryder has Robo-Dog retrieve the PAW Patroller instead to drive to the North Pole, calling Everest for assistance in joining them to navigate the snowy landscape on the way to Santa's workshop.
When Ryder manages to contact Humdinger and ask him to return the Air Patroller, Humdinger feigns ignorance by pretending to be one of Santa's elves, "Hummy", and Percy reveals that the coin he dropped earlier that Humdinger recovered serves as his communicator with Santa. Using it, Humdinger tells Santa he's on his way to return the map to him, and Santa falls for the ruse. When Humdinger arrives, he hands the falsified half of the map with Foggy Bottom on it to Santa before taking his leave, but on the way back to town, Cat Skye gets fed up with Humdinger's lack of respect to the Catastrophe Crew due to the Christmas season and leaves the controls, forcing Humdinger to take over and end up crashing the Air Patroller, losing Percy's communicator as well. Stranded, Humdinger and the kittens have no choice but to cry for help and hope someone hears them.
Back with the PAW Patroller, in an attempt to still beat Humdinger to the North Pole, the vehicle loses traction and crashes into a snowbank. Everest gets them out, but as they resume their pursuit, they lose track of the Air Patroller's GPS signal. Tracker soon picks up Humdinger and the Catastrophe Crew's cries for help, but torn between reaching the North Pole and helping them, Ryder reminds the pups that they are rescue pups first and foremost, and they go to help the Catastrophe Crew and Humdinger. When they arrive, Ryder has Tracker activate the Air Patroller's emergency button to open the cockpit since the ramp was blocked by snow, and as Marshall provides a ladder for the kittens and Humdinger to climb down, Humdinger initially tries to act like his normal, ungrateful self, but after what he has been through, he is extremely grateful and apologetic for his actions. Also, as a result of the PAW Patrol showing the Christmas spirit, Percy's rocket sled is fully repaired, and he quickly takes off to show Santa the rest of the map before he departs with the falsified information. The PAW Patrol, joined by the Catastrophe Crew, follow after in the Air Patroller.
At the North Pole, Santa musters his reindeer and prepares to leave, but Percy arrives in time to give him the map with the real information included so he knows where to deliver the gifts proper. When the Air Patroller arrives, Tracker is allowed a chance to meet Santa in person, as he is Santa's biggest fan. Santa gives Tracker his own Santa hat as a gift, before asking the PAW Patrol if they would be willing to help him deliver all the gifts. They accept, and even Humdinger asks if he can help as well to atone for his naughty deeds, and Santa accepts.
With Percy and Tracker riding with Santa, while everyone else follows in the Air Patroller, they soon start delivering gifts to everyone around the world, including the Princess of Barkingburg and Sweetie, Carlos, Big Hairy, Mandy and her family, and the Mer-pups in Puplantis.
Back in Adventure Bay, with their mission complete, Santa presents Humdinger with the gift he wanted as reward for his efforts to atone for his naughty actions, but when a young girl breaks her toy, Humdinger, out of the goodness of his heart, gives her his gift to replace it, and Santa gives him a second one so he still gets what he wanted. Everyone joins around the Christmas tree to join in the Christmas carol from the start of the episode as Santa departs to return home himself, so it is a Merry Christmas for everyone.
Pups in Action
First Responders

Chase
Use his spy gear to look for Percy's map.

Rocky
Use his tools to try and fix Percy's sled.
Backup Responders

Everest
Use her snow plow to get rid of snow in the way of the PAW Patroller.

Tracker
Use his cables to climb on the top of the Air Patroller, and a mini-tool to open the switch then press the emergency button to open the front window.

Marshall
Use his ladder to help Mayor Humdinger and Kitten Catastrophe Crew get down from the Air Patroller's cockpit.
Community content is available under
CC-BY-SA
unless otherwise noted.