Spoiler Warning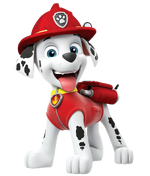 This article is related to an episode that has not premiered in the United States yet, or has very recently premiered. This page may contain spoilers from this specific episode. If you don't want to see spoilers, please go to a different page. This notice can be removed a week after an episode's premiere in the United States.
---
If you see this template on a page, do not post comments detailing spoilers for an episode. Major plot details of an episode are not to be mentioned in comments until a week after it premieres.
"Rescue Knights: Quest for the Dragon's Tooth" is the 15th episode in Season 8 of PAW Patrol.
Summary
When Ryder and the pups are knighted by the Princess of Barkingburg, they're put to the test when a disgruntled ex-knight gains control of a dragon and attacks the castle.
Characters
Ryder
Claw (debut)
Princess of Barkingburg
Sparks (debut)
Additional characters to be announced.
Synopsis
To be announced.
Pups in Action
First Responders

Marshall
Use his water lance to put out any fires Sparks starts.
Later, get the the Dragon Tooth from Claw

Skye
Use her copter to distract Sparks so that he won't do as much damage.
Backup Responders
Rubble
Use his catapult to get the rock off of Sparks' talons.

Chase
Distract Claw and Sparks with his dragon bola.
Later, save Marshall from falling.

Zuma
Rescue the Earl with his buoy.

Rocky
Use his magnet to bring Claw lower so he can get the tooth.