The Ruff-Ruff Pack is a villainous faction of cycle riding dogs that debuted in the Season 7 episode "Moto Pups: Pups vs. the Ruff-Ruff Pack". They have a big rivalry with Wild Cat, the first cat member of the PAW Patrol.
Members
The members of the Ruff-Ruff Pack appear to be strays as they all look dirty and don't have any owners or wear collars. The names of the faction include Hubcap, Gasket, and Dwayne. The members seem to look like other dogs in the series as Hubcap appears to be a French Bulldog, Dwayne appears to be a Great Dane, and Gasket appears to be a Siberian Husky. Hubcap is voiced by Julian Crispo, Gasket is voiced by Madison Abbott, and Dwayne is voiced by Osias Reid. Mayor Goodway and Chickaletta also joined the team in "Moto Pups: Pups Save a Moto Mayor" to stop the Ruff-Ruff Pack's bad ways but were only temporary members.
Team Logo/Badge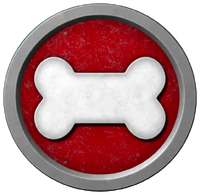 The Ruff-Ruff Pack logo is a red circle with a white bone on it and is on both of their vehicles and clothes.
Hideout
The Ruff-Ruff Pack's hideout is an abandoned diner, located within the desert.