1 • 2 • 3 • 4 • 5 • 6 • 7 • 8 • 9 • 10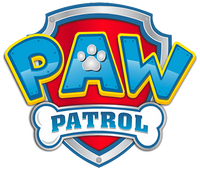 Season 5 is the fifth season of PAW Patrol which premiered on February 6, 2018 with "Pups Save the Kitty Rescue Crew"/"Pups Save an Ostrich" and concluded on January 25, 2019 with "Pups Save Ace's Birthday Surprise" and "Pups Save a Tower of Pizza". It contains 26 episodes like the last four seasons.
Spin Master president Ben Gadbois confirmed that the fifth season was "currently in development" during the company's 2016 Q1 Financial Results Conference Call. Ronnen Harary (one of the founders of Spin Master) also mentioned the season after talking about Season 4's international release set for 2018.
Writers
Here is a list of the writers for Season 5:
Episode List
Each listing will contain the episode number, name, original U.S. airdate, and its writer.
---
---
---
---
---
---
---
---
---
---
---
---
---
---
---
---
---
---
---
---
---
---
---
---
---
---
---
Season Special. Mighty Pups (11-12-2018, Andrew Guerdat and Steven Sullivan)
---
Trivia
---
Title Cards