1 • 2 • 3 • 4 • 5 • 6 • 7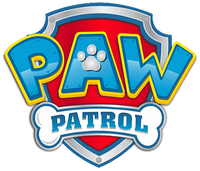 Season 6 is the sixth season of PAW Patrol which premiered on February 22, 2019 with "Pups Save the Jungle Penguins" and "Pups Save a Freighter". According to multiple sources, it will contain 26 half-hour episodes, and will also feature a sub-series of superhero-themed episodes, called "Mighty Pups, Super Paws/Charged Up".
In November 2016, Spin Master president Ben Gadbois confirmed that the sixth season was "already in development" during the company's 2016 Q1 Financial Results Conference Call. He did not provide any additional details about the season.
Writers
Here is a list of writers from Season 6:
Episode List
Each listing will contain the episode number, name, original U.S. airdate, and its writer.
---
---
---
---
---
---
---
---
---
---
---
---
---
---
---
---
---
---
---
---
---
---
---
---
---
---
---
Season 6 Trivia
The following voice actor changes took effect beginning with the first episode:
The PAW Patrol gained 2 new team members: Ella and Tuck.
In the sixth season of PAW Patrol (26 half-hour episodes, produced by Spin Master Entertainment), the heroic pack of pups--Chase, Marshall, Rubble, Skye, Rocky, Zuma and Everest, transform into the greatest team of superheroes the world has ever seen: Super PAW. Joined by new superpowered friend Tracker, no danger in Adventure Bay will be a match for the rescue pups' incredible speed, high-flying or super-strength abilities.
---
Title Cards
Community content is available under
CC-BY-SA
unless otherwise noted.