Location Info
The South Pole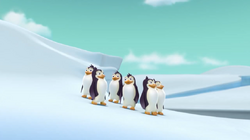 A group of
penguins
seen standing on the South Pole's snow.
This is the South Pole of the PAW Patrol universe, first seen in Season 2.
About
This is a vast area outside of Adventure Bay that is mostly covered with snow and ice. It is mainly home to the penguins (among other arctic creatures), and originally Everest. The surface is uneven; with many snow drifts, hills, and even cliffs in the background. Both the penguins and Everest like using these inclines to go belly-bogganing. Bodies of freezing cold water surround and pass through the entire region. The PAW Patrol uses the PAW Patroller to access this region, though Jake can get there on his own.
Special features
Everest's igloo: Everest's residence before moving in with Jake at Jake's snowboarding resort.
Ice bridge: The only known pathway over a water channel to Everest's igloo from where she saved Jake. It collapsed in "The New Pup".
Frozen lake: A huge, off-road lake. The ice coating breaks apart when stressed by a heavy object (such as the PAW Patroller).
Penguin cave: A small rock tunnel where penguins can live, sleep, etc.
Occupants/wildlife
Current
Penguins: The main inhabitants of the South Pole.
Walruses: Many were seen in "Pups Save a Stowaway".
Seagulls: One appeared in "Pups Save a Stowaway", which Cali chased.
Whales: Seen in the background at the end of "Pups Save a Stowaway".
Past
Everest: Lived in her igloo before meeting and moving in with Jake.