Location Info
The beach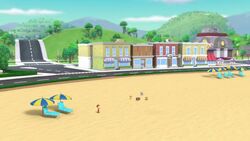 Recurring setting of
PAW Patrol
This is the main beach area of Adventure Bay.
About
This is where the residents of Adventure Bay hang out and have fun. The sea turtles come here once a year to lay their eggs (seen in "Pups Save the Sea Turtles"). People also play volleyball at the volleyball court. The beach needed to be cleaned up after a storm that blew over almost all of the nearby recycling bins (seen in "Pups Save a Walrus").
Notable areas
Turtle nests: The sea turtles lay their eggs on the beach, and their babies leave the nest when they hatch and crawl into the ocean.
Volleyball court: This is where the people come to play volleyball.
Animals
Seagulls: These birds roam around looking for trouble and food, and they can even try to steal from baby animals (like Fuzzy). The PAW Patrol always keep an eye on them.
Crab: He has a bit of an attitude and has used his claw on Marshall's tail.
Turtles: These are innocent animals and are never even okay to touch because their minuscule bones might be damaged easily.