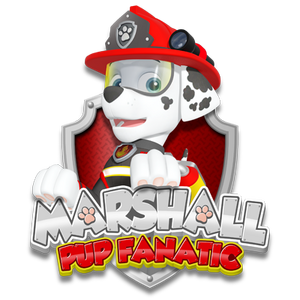 Howdy! I'm just your average joe with a love of animation, drawing, playing (mostly older) games, wolves and dogs, cooking, among other things. A big dream of mine is to one day improve both my drawing and writing skills so I can create my own books and cartoons for children.
In the PAW Patrol community, I'm better known as "MarshallPupFan". Under that name, I run a Twitter and Tumblr blog largely dedicated to posting content of Marshall, including daily screenshots, weekly wipeout clips, and more! I also post updates & reminders of new episodes, occasional discussions, among other things. If you're interested, check 'em out! (Links can be found next to my avatar at the top of the page!)
(Oh, I can also be found on Instagram and Youtube, too!)
In Which I Ramble About PAW Patrol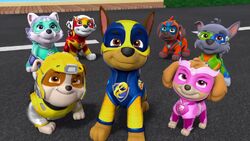 I was aware of the show's existence as early as 2015, but it wasn't until three years later when I finally decided to give it a shot. The first thing I watched was "Mighty Pups", which I was curious about anyway since I'd seen it advertised a bunch in stores and on TV. Much to my surprise, it left me wanting more, so a few days later I decided to check out some of the regular episodes and... well, before I knew it, I was hooked!

The pups are easily my favorite thing about PAW Patrol... which isn't surprising, since if you know me, then you know just how much I love dogs. In fact, before watching Mighty Pups, Chase caught my attention many times, thanks to German shepherds being one of my favorite breeds. Naturally, he quickly became my favorite when I first started watching, though many of the others soon climbed up my list, such as Everest, Rocky, and the season seven newcomer, Rex. But the more I stuck with the show, the more another pup caught my attention. I dare say it's obvious who that is at this point.

To be perfectly honest, I am absolutely crazy about Marshall. He's not only my favorite pup in the cartoon, he's also one of my favorite animated characters, period. There's just so much about Marshall that I love, such as his silly yet charming & friendly personality, his playful nature, his clumsiness and the humor that often accompanies it, among other things... yes, even his numerous puns (the good and the bad).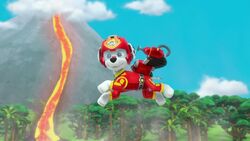 And as someone who enjoys drawing characters, I simply love his design, as it's easily my favorite among the entire cast. Furthermore, I legit believe he's the best character in the show, as I feel he's a fine leader when given the chance, he's very good at taking the initiative, and most of all, I love that he's one of the few (if not, only) to actually grow as a character and have it remain with him throughout the rest of the series (when he overcame his fear of flying in "Pups Leave Marshall Home Alone").... something I don't believe any other character or pup can say.

Oh, and above all else... he's just so adorable, too. And if you don't mind me saying, he has an awesome smile that can't help but make me smile right back.

No doubt there will be those who'll disagree with me on some or all of this, but I personally believe Marshall's a terrific character, one who's both memorable and easily one of the most likeable of the group. I've no problem admitting he's the biggest reason I've stuck with the cartoon as long as I have. Truth be told, I never grow tired of his clumsy antics and hearing him say "I'm good" afterwards, and as far as I'm concerned, an episode of PAW Patrol simply isn't complete until we see Marshall wipe out into an elevator or one of the various Patrollers (a tradition I hope they always stick with, regardless of any naysayers).

My Favorite Half of the PAW Patrol Team
In which I rank my favorite half of the team!
Pups not listed (but I still like 'em anyway)
My Favorite Marshall-Centric Episodes
Episodes that either center around Marshall, or he had a significant role. Of course I HAD to make a category about this!




My "Other" Favorite Episodes
Ones that don't involve a certain spotted pup as much or at all. Believe it or not, I do like the other pups, too!




My Least-Favorite Episodes
I don't hate these, but there's a good chance I probably won't watch them again anytime soon.




Characters I Like (Outside of the PAW Patrol Team)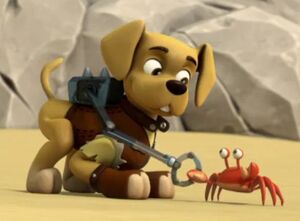 Adventure Bay citizens, villains, among other characters that make up the cast.




Characters I DON'T Like...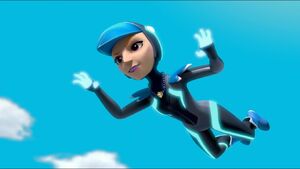 Similar to before, I don't hate these characters... but I wouldn't lose any sleep if I never seen them again.




My Pick for Marshall's Best Outfits

Just an excuse to post more about Marshall. Have I mentioned yet just how much I love this character?
Spotted Pup Trivia!
True to his breed, Marshall has many spots all over his fur... 43, to be exact!