ADMINISTRATOR
This person is an administrator of the PAW Patrol Wiki! You can send them a message on their message wall if you have any questions or need help on the wiki. They can also be messaged to report a rule-violating user. If this admin is away or unable to help with a specific problem, contact another admin listed at the bottom of the profile page.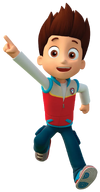 "Whenever you're in trouble, just yelp for help!"
The admin list is proof of this user's administrative status. If this user's name is not on the list, they are pretending to be an administrator, which violates our guidelines. Users pretending to have any sort of administrative status should be immediately reported to SirBlaze.
Bonjour! Je suis un francophone.

This user speaks French just like Francois.
| | |
| --- | --- |
| | This user is a fan of Arrby. |
| | |
| --- | --- |
| | This user is a fan of Danny. |
| | |
| --- | --- |
| | This user is a fan of Ryder. |
Hello, my name is NoonboryKedabory. I stand for a wiki free of vandalism and as much info as possible.
My Favourite Stuff!
My Least Favourite Stuff...
Least Favourite Pups: None of them! You didn't think I actually disliked any of the pups, did you? ;)
Least Favourite Human: Francois, with his stupid little beret and "oh I'm so cool even though I'm not" attitude....mmm, I don't like him.
Least Favourite Villains: Mayor Humdinger (because he's an annoying manchild and appears way too often) and Ladybird (because she's also very annoying, and a lazy Sid Swashbuckle clone).
Least Favourite Episodes: "Pups Save a Good Mayor" (Humdinger's worst appearance thus far), "Pups Save an Adventure" (boring and tedious; this should have been a 3-minute information short), "Sea Patrol: Pups Save a Frozen Flounder" (because of Ryder being an out-of-character jerk), and "Pups Save the Land Pirates" (false advertising; also it's super boring).
Other Facts About Me
I have been a PAW Patrol fan since June 2018. I first gained interest in the series when I was writing a crossover story about preschool characters gaining superpowers (note that this was a few months before the announcement of Mighty Pups). My curiosity furthered when I learned that one of the voice actors has previously worked on Ruby Gloom, which I am a fan of. I watched an episode, and I've been hooked ever since.
I have a pup of my own: a Black Labrador/Belgian Shepherd mix named Jax.
The first episode of the series I saw was "Pups Save a Sniffle", but the first one I watched in its entirety was "Mission PAW: Pups Save the Royal Throne".
The episodes "Pups Save a Talent Show", "Pups Save the Corn Roast", "Air Pups", "Moto Pups: Pups Save the Donuts", and "Moto Pups: Pups Save the Kitties" aired on my birthday (though in different years).
I wrote my own PAW Patrol script. It contains two episodes, and its title is "Pups Save a Lost Voice/Pups Save Cali". I have tried to contact Guru Studio to ask about submitting it, but I have not yet received a response.
I was one of the first people to join the Discord server. However, I left because of the disgusting queerphobia from other staff. Seriously, folks, don't be like those guys. Being queer is not a bad thing and does not make you a bad person.
I was declared an admin on January 7, 2021.
I saw "PAW Patrol: The Movie" in the theatre on August 28, 2021.
Other Facts About Me (That Aren't PAW Patrol Related)
I speak French as a second language.
My username comes from the obscure Korean children's cartoon 뚜바뚜바 눈보리 (Tubatuba Snow Barley, English title Noonbory and the Super 7). Noonbory is the main protagonist; Kedabory is my OC.

When referring to me, please use "Kedabory", not "Noonbory".

I want to be a children's television writer as a career.
I'm an out-and-proud lesbian, and I'm hoping to one day see LGBT representation in PAW Patrol.