ADMINISTRATOR
This person is an administrator of the PAW Patrol Wiki! You can send them a message on their message wall if you have any questions or need help on the wiki. They can also be messaged to report a rule-violating user. If this admin is away or unable to help with a specific problem, contact another admin listed at the bottom of the profile page.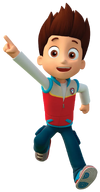 "Whenever you're in trouble, just yelp for help!"
The admin list is proof of this user's administrative status. If this user's name is not on the list, they are pretending to be an administrator, which violates our guidelines. Users pretending to have any sort of administrative status should be immediately reported to SirBlaze.
| | |
| --- | --- |
| | This user is a fan of Rocky. |
| | |
| --- | --- |
| | This user is a fan of Skye. |
Intro
Hi there! My name is Ryan or you can call me RockyEco-pup if you find that more suitable. I have been on this wiki for about 5 years now, and I am pleased to be one of the administrators of this wiki. I was given administrative abilities on January 20, 2018 and I will be glad to assist if the need arises.
My favorite pup is Rocky. I first joined the wiki on March 12, 2014.
Interesting Things About Me
I can remember the exact date I first seen and fell in love with PAW Patrol: December 21, 2013.
The first PAW Patrol episode I seen was Pups Save a School Day/Pups Turn on the Lights
Though I was born in 2000, I have vivid memories in my childhood of watching 90's shows.
I love collecting old Hot Wheels cars and scale model cars.
I'm a huge fan of Action, Adventure, and Comedy movies.
I have been taking Martial Arts for over 10 years.
My favorite season is winter.
Favorite PAW Patrol Quotes
---
---
Marshall: "Ryder, watching ourselves is so much fun. Why can't all our adventures be on TV?
Ryder: "You never know, Marshall." (Pup A Doodle Do)
---
---
---
---
---
Rocky: "Why trash it when you can stash it?"
---
---
---
Favorite PAW Patrol Pups in Order
My Favorite PAW Patrol Pictures
Community content is available under
CC-BY-SA
unless otherwise noted.