ADMINISTRATOR
This person is an administrator of the PAW Patrol Wiki! You can send them a message on their message wall if you have any questions or need help on the wiki. They can also be messaged to report a rule-violating user. If this admin is away or unable to help with a specific problem, contact another admin listed at the bottom of the profile page.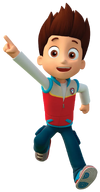 "Whenever you're in trouble, just yelp for help!"
The admin list is proof of this user's administrative status. If this user's name is not on the list, they are pretending to be an administrator, which violates our guidelines. Users pretending to have any sort of administrative status should be immediately reported to SirBlaze.
My name is Erik. I started watching PAW Patrol about maybe a year or so ago as I did not take notice of the show until that point. Since then, I've enjoyed watching Ryder and the pups as they keep Adventure Bay safe from minor problems, like losing the statue of Grover Goodway, to big emergencies, like an oil spill, preventing a shipwreck, or saving a life. Then there is also their rivalry with their new arch-enemies in the Kitten Catastrophe Crew and Foggy Bottom Mayor Humdinger.
I'm an avid video gamer as I play the likes of Command & Conquer, StarCraft, Sonic the Hedgehog, Star Wars, Call of Duty, Dynasty Warriors, Kingdom Hearts, Legend of Zelda, Halo, NCAA Football, The Sims, and Grand Theft Auto on my PlayStation, GameCube, Xbox, and PC, Team Fortress 2 and Garry's Mod on Steam for the PC.
I also watch classic shows regarding emergencies or police pursuits, like Emergency!, CHiPs, Rescue 911, Baywatch, and World's Wildest Police Videos. However, I also watch shows that include Japanese anime as well, like Sailor Moon, Thundercats, Sonic X, Ronin Warriors, Mon Colle Knights, Cardcaptors, Gundam Wing, G Gundam, Tenchi Universe, Shinzo, Mew Mew Power, Monster Rancher, Beyblade, Bakugan, and Voltron.
I can relate to the PAW Patrol as I always want to be a Good Samaritan and help my community. I've recently acquired my certificate in First Aid and CPR after taking a course in it during my final semester at college, so now I can help someone if they are injured, bleeding, or unresponsive and not breathing, though I will need to renew it every two years or so by visiting the local ambulance service in my hometown. However, since I saw how expensive it is to renew it, I think I can wait a little longer before taking the renewal course. I'm sure the Sheriff, Chief of Police, and the Fire Marshal will understand if I have to prolong renewing my certification due to the high cost. Since I've become very friendly with my hometown's first responders, it should not be too hard to renew it. However, I'm scared silly of fires and tornadoes. Even a whoosh of heat from a fire I'm standing a safe distance from has me hitting the dirt for safety, and when I hear the tornado sirens, I head for the basement, period.
My neighborhood has also created a group dedicated to keeping our area safe from the likes of criminals in conjunction with our police and fire departments, the county sheriff, and the state police. That makes me feel proud to now be able to help them out if I come across something like a traffic accident, or I am attending a big event like the Fourth of July fireworks show, or an annual music concert. However, I'm scared silly of fires and tornadoes, but when my co-workes or friends are threatened, my fears are put aside to help them and save their lives.
My parents believe that I might still be unprepared, so I might have to wait another year or two to really make a difference in my community.
My favorite pages
Community content is available under
CC-BY-SA
unless otherwise noted.