ADMINISTRATOR
This person is an administrator of the PAW Patrol Wiki! You can send them a message on their message wall if you have any questions or need help on the wiki. They can also be messaged to report a rule-violating user. If this admin is away or unable to help with a specific problem, contact another admin listed at the bottom of the profile page.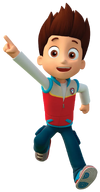 "Whenever you're in trouble, just yelp for help!"
The admin list is proof of this user's administrative status. If this user's name is not on the list, they are pretending to be an administrator, which violates our guidelines. Users pretending to have any sort of administrative status should be immediately reported to SirBlaze.
Hello! I am Tbrays30, I've proudly served as administrator here for over five years now (hard to believe it's been that long). I found this wiki by simply searching "PAW Patrol", and I figured I'd make an account to get involved with the community. I serve as administrator on many other wikis, such as the Vexi Wiki (flags wiki), and the Backyardigans wiki. Though sometimes I may fall inactive due to school and work I always check in and attempt to assist with editing when I can. I am proud to say that I've been a part of this wiki's major changes and developments over the years.
Favorite Pup Templates:
| | |
| --- | --- |
| | This user is a fan of Rocky. |
| | |
| --- | --- |
| | This user is a fan of Zuma. |
| | |
| --- | --- |
| | This user is a fan of Skye. |
| | |
| --- | --- |
| | This user is a fan of Cali. |
(Note: Templates made by Pablor)
About Me:
The first episode I ever saw was "Pups and the Kitty-tastrophe" although I didn't see it when it first aired.
I've been a user since April 7th 2014, and an administrator since February 6, 2015.
SirBlaze and I are the two main Administrators of this Wikia.
I am second in line to run this site.
I serve as administrator on many other sites.
I probably have the widest music variety out of anyone you know.
I hope to travel in my future.
Favorite Episodes:
Favorite Songs:
Top Four:
I also list them below, these are the Top Four.
Favorite Genres:
Alternative Rock
Grunge
Rap
Indie
Country
Blue Grass
Celtic
Metal
Favorite Bands/Artists:
Nirvana
Red Hot Chili Peppers
Linkin Park
U2
Green Day
System of a Down
Metallica
Pearl Jam
Alice in Chains
Jimi Hendrix
The Smashing Pumpkins
Drake
2Pac
Tom Petty
All Favorites:
"With Or Without You" U2
"Sunday Bloody Sunday" U2
"Nonstop" Drake
"Bank Account" 21 Savage
"Tonight, Tonight" Smashing Pumpkins
"Amarillo Sky" Jason Aldean
"How You Like Me Now?" The Heavy
"Copperhead Road" Steve Earle
"Who Can It Be Now? Men at Work
"You Can Hate Me Now" Nas, ft. Puff Daddy
"Bugatti" Ace Hood
"My Way" Limp Bizkit
"Swimming Pools" Kendrick Lamar
"Californiacation" Red Hot Chili Peppers
"Bullet With Butterfly Wings" Smashing Pumpkins
"Kryptonite" 3 Doors Down
"Chop Suey!" System of A Down
"Psychosocial" Slipknot
"Freak on a Leash" Korn
"Zombie" The Cranberries
"Brain Damage/Eclipse" Pink Floyd
"The Way". Fastball
"In Bloom". Nirvana
"Zero" Smashing Pumpkins
"Black Hole Sun". Soundgardan
"Can't Stop". Red Hot Chili Peppers
"Alive". Pearl Jam
"The Wreck of the Edmund Fitzgerald" Gordon Lightfoot
"Sirens". Pearl Jam
"Time Of Your Life". Green Day
"Calling All Angels". Train
"How To Save A Life". The Fray
"Centuries". Fall Out Boy
"About A Girl". Nirvana
"The Drift" Blackmail
"Riders On The Storm" The Doors
"Ambitionz Az A Ridah" 2Pac
"It Ain't Me (Fortunate Son)" CCR
"Gimme Shelter" The Rolling Stones
"Dani California" Red Hot Chili Peppers
"Come Down" Bush
"Sad But True" Metallica
"Dragula" Rob Zombie
"Cult of Personality" Living Color
"California Love" 2Pac
"Both" Gucci Mane, feat. Drake
"Song 2" Blur
"XO TOUR Llif3" Lil Uzi Vert
"My Own Worst Enemy" Lit
"Longview" Green Day
"Jesus of Suburbia" Green Day
"Purple Haze" Jimi Hendrix
"King of Birds" REM
"For What It's Worth" Buffalo Springfield
"Sabotage" Beastie Boys
"Ramblin' Man" The Allman Brothers
"Tell Me Baby" Red Hot Chili Peppers
"Holiday" Green Day
"Sweet Child O' Mine" Guns N' Roses
"Jeremy" Pearl Jam
"Gotta Get Away" The Offspring
"Lose Yourself" Eminem
"Black" Pearl Jam
"Karma Police" Radiohead
"Creep" Radiohead
"Hurt" Johnny Cash
"When I Come Around" Green Day
"Chan Chan" Buena Vista Social Club
"Dream On" Areosmith
"I Don't Wanna Be" Gavin DeGraw
"The House Of The Rising Sun" The Animals
"How You Remind Me" Nickelback
"What I've Done" Linkin Park
"Paradise" Coldplay
"Closing Time" Semisonic
"The Monster" Eminem (ft. Rihanna)
"Love The Way You Lie" Eminem (ft. Rihanna)
"Rooster" Alice In Chains
"It Was a Good Day" Ice Cube
"Contact" Wiz Khalifa (feat. Tyga)
"Baby Sitter" DaBaby (feat. Offset)
"Mellon Collie and the Infinite Sadness" Smashing Pumpkins
"We Only Come Out At Night" Smashing Pumpkins
"Arabesque" Coldplay
"Lo Mein" Lil Uzi Vert
"The Needle and the Spoon" Lynyrd Skynyrd
"The Game" Motörhead
"Straight Outta Compton" N.W.A.
"Rap God" Eminem
"Into the Great Wide Open" Tom Petty
"Take Me Home, Country Roads" John Denver
"Under The Bridge" Red Hot Chili Peppers
"Iris" Goo Goo Dolls
"Wonderwall" Oasis
"Have You Forgotten" Darryl Worley
"Plush" Stone Temple Pilots
"Enter Sandman" Metallica
"Jumper" Third Eye Blind
"Hey, Hey, My, My" Neil Young
"Glycerine" Bush
"Nothing Else Matters". Metallica
"Stairway To Heaven" Led Zeppelin
"Face In The Sand" Iron Maiden
"The Next Episode" Dr. Dre, Ft Snoop Dogg
"Black and Yellow" Wiz Khalifa
"Loser" Beck
"You're Gonna Go Far Kid" The Offspring
"Seven Nation Army" The White Stripes
"Voodoo" Godsmack
"Smells Like Teen Spirit". Nirvana
Favorite TV Shows:
PAW Patrol
The Office
Regular Show
Adventure Time
Friends
The Big Bang Theory
Bob's Burgers
The Simpsons
Futurama
Rick and Morty
Gravity Falls
King of the Hill
Favorite Movies:
Black Panther
The Godfather
Straight Outta Compton
Malcolm X
Captain Phillips
The Lion King
Troy
Moneyball
Star Wars: Episode VI - Return of the Jedi
Star Wars: Episode II – Attack of the Clones
Joker
The Dark Knight
Favorite Video Games:
Microsoft Flight Simulator X
Call of Duty: Black Ops
Call of Duty: World at War
Call of Duty 4: Modern Warfare
Call of Duty: Modern Warfare (2019)
Call of Duty: Modern Warfare 2
Call of Duty: 2
Call of Duty: Ghosts
Call of Duty: Modern Warfare 3
NBA 2k series
NCAA:14
Batman: Arkham Asylum
Batman: Arkham City
Lego Star Wars: The Complete Saga
Grand Theft Auto V
Minecraft
MLB the Show series
Endless Ocean
Go Vacation
Random Polls:
Gallery:
Community content is available under
CC-BY-SA
unless otherwise noted.